By: Jason Lewis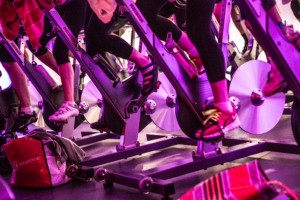 Training is important, but for some it's considered a bad word. It's typically associated with exhaustion, sore muscles, aches and pains, while performing undesirable tasks. The results are usually worth it, but the means of getting in shape can be intolerable.
For people who are not very fond of training, the key is to find enjoyable activities, and some gym owners are working to help people enjoy their training.
"We believe that recreation should be fun," said John Scarangello, owner of Kinetic Cycling in Brentwood, Calif. "If you look in the dictionary under 'recreation,' fun is one of the explanations of what recreation means."
Scarangello has created "fun" by turning his indoor spin studio into a room that has the feel of a club: neon lighting, flat screen televisions, and music that makes it seem more like a party than a workout. Kinetic Cycling is not just getting people to hop on the bike and spin the wheel for 45 minutes. They have created a fun and inspirational environment where people don't dread going.
"We contend that they are doing something fun, but incredibly rigorous," Scarangello said. "We get their mind out of the conscious and into the subconscious, and bombard the senses with lighting, with scent, with air conditioning, with music, with video. We're doing sound, we're doing touch, we're doing smell. While they're working out like that, they forget how hard they're working."
Studies have shown that the right type of music can make a person lose sight of becoming exhausted, and it can lead a person to increase the intensity of their workout. Kinetic Cycling has captured this, as the music and lighting creates a club-like environment. Flat screen televisions show videos and images that motivate people to push themselves faster. While many workout programs can get boring causing intensity to drop, classes at Kinetic Cycling are designed to keep the rhythm going at a very high pace.
"Our teachers are trained to pick up the lull," Scarangello said. "We are trying to provide a constant steady stream of high energy and positive energy at the same time. We call it good energy."
That good energy, spread among 50 people who are spinning away to highly motivational music, creates a synergy that pushes people beyond the limits that they set for themselves. That synergy elevates everybody's athletic performance, and their ability to train at a greater level.
It's not just the music and lighting that's getting people in shape. Those are just used to take people's minds off of the fact that they are training. These spin classes can burn anywhere from 400-900 calories per 45-minute session, and this form of training can be superior and safer to road cycling in certain ways.
"Nobody has ever been hit by a car in our studio," Scarangello said as he laughed. "Nobody has ever been bitten by a dog. Nobody has ever been rained on. It's safe. The time component to do indoor cycling is 45 minutes. You're not wasting a minute. Here, every second is accounted for. Somebody is taking charge of your 45 minutes. You're getting every minute at its maximum level. And you're walking out of the door safe."
Spin class is considered a low-impact activity, because people are not pounding their feet against the pavement.
"Any knee doctor will send their patients to an indoor cycling class to strengthen the muscles around the knee," Scarangello said. "It is a known medical fact that indoor cycling strengthens the muscles around the knee without any inherent danger of falling down or getting hurt. It's a controlled environment in a controlled timeframe."
Because the movement of spin class is so simple, people of all ages can do it. From teenagers to senior citizens, just about anybody can benefit from this form of training. With the environment that a lot of studios are providing, many people are forgetting that they are training but they are getting in great shape while having fun doing it.